GW is now offering primary care and expanding our specialty care services in Bethesda! We are committed to improving the lives of our patients by providing the highest quality of care. Our providers are part of The George Washington University Medical Faculty Associates (GW MFA), the largest independent physician practice in the Washington, DC, metropolitan area. With more than 700 providers and 50 specialties, GW physicians have been a trusted source of patient-centric care for nearly 200 years.
Primary Care in your Neighborhood of Bethesda
We are now offering excellent primary care in your neighborhood. We know that seeing a care provider within a few miles from home is important to our patients. We are excited to be an active part of the Bethesda community. Our highly skilled medical team is passionate about taking care of the health and well-being of our patients and we look forward to taking care of you.
GW Primary Care - 7137 Arlington Rd., Bethesda, MD 20814
Expanding Specialty Care in Bethesda
We are excited to expand our specialty care offerings in Bethesda. We are currently accepting new patients in the following specialty areas:
Cardiology
Obstetrics & Gynecology
Neurosurgery
Podiatry (Coming Soon)
Urology (Coming Soon)
 GW Specialty Care - 4920 Elm St, Suite 225, Bethesda, MD 20814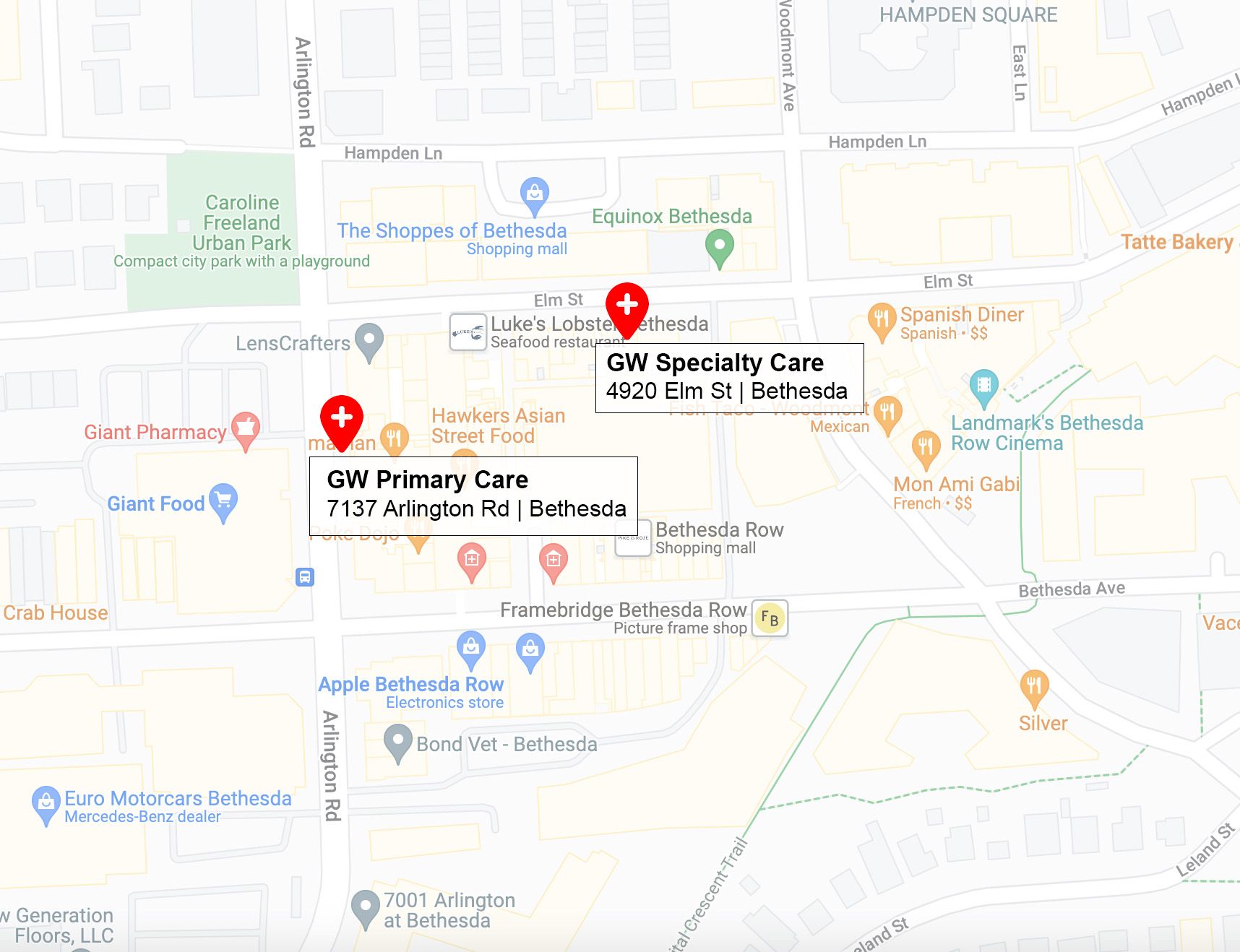 Our Other Locations
  800-416-1098 | 1500 N Beauregard St., Suite 100 | Alexandria, VA 22311
1101 15th St NW | Washington, DC 20005
2902 Porter Street, NW | Washington, DC 20008
2350 Washington Place, NE, Suite 110N | Washington, DC 20018
22nd & I Street, NW, 3rd & 4th Floor | Washington, DC 20037
2300 M Street, NW, Suite 910 | Washington, DC 20037